FastPass+ Logistics and the Magic Band
FastPass+ Logistics and the Magic Band
Testing for Disney's NextGen program continues and we now have more information about the FastPass+ Program!
FastPass+
FastPass+ is different from the existing FASTPASS Program in that it will involve the use of RFID on your ticket (or Magic Band – see below) giving guests the chance to plan their itineraries ahead of time including access to their favorite attractions.  This can be done in advance online or, should you need to make adjustments – in the park by using either a kiosk or the MyDisneyExperience App on your smart phone.  You pick your arrival window (an hour long period) in which you intend to arrive at a particular attraction.  This is instead of physically running to the attraction to pull the FASTPASS paper ticket and later return.
Attractions that historically have had a FASTPASS will be part of this program and Disney has been adding other attractions to this list such as the Haunted Mansion, It's a Small World, and Spaceship Earth to name a few.  In addition, the FastPass+ will also provide reserved seating for parades, shows, fireworks, and character meet and greets.
 FastPass+ Terms and Conditions
Let's take a look at some of the key points in the terms and conditions as of 12/29/12.
Availability of a FastPass+ experience, the number of experiences you may select and arrival windows are limited and vary based on factors such as the theme park you are visiting, the attraction or entertainment experience, the time of year and the day of the week, and prior demand. In addition, the number of days for which you can hold FastPass+ selections at any given time is limited.
While its clear this is limited (in testing guests were given 4 attractions in a single park for a day) I am OK with this since personally, at the most I pick only 1-2 FASTPASSES per park anyhow.  Also, I think many of us have faced the empty FASTPASS machine so this is a known limitation to the program that would need to continue. My only concern here is what if I want to "pull a FASTPASS" on EVERY day of my trip.  Also, will Annual Pass holders or those staying at Deluxe Resorts get more days than those at an Economy Resort?  With this program will there be more FASTPASSES available than there were with the paper tickets?
You may make FastPass+ selections for one park per day. You may only select and redeem a FastPass+ selection for a particular attraction, entertainment or restaurant experience once per day.
The part that concerns me is that it's limited to one park per day.  I'm a huge fan of the Park Hopper option and like the flexibility of choosing multiple parks (and therefore food options) in a day.  When I think about it though, I might go to EPCOT everyday but that doesn't mean I need a FastPass+ to enjoy every attraction.  In practice, this might be a non-issue.
 You may make FastPass+ selections for yourself, your Managed Friends, and your Connected Friends.
This is nice for planning the family trip and certainly beats the "QUICK GIVE ME ALL YOUR TICKETS SO I CAN RUN TO THE FASTPASS MACHINE AND GET THE PASSES!"
Your Connected Friends may also make FastPass+ selections for you or modify the selections you've made without notification to you. You can view the selections and modifications made by Connected Friends for you when you log in to your account and view your itinerary.
Note to my Dad – Make sure your Daughter-In-Law isn't one of your connections or you WILL be scheduled for It's a Small World.  Lucky for you, the terms limit that you can't repeat attractions.  For example, if you have 4 FastPass+ options, you cannot repeat the same attraction at any time.
Magic Your Way ticket holders may make FastPass+ selections beginning 60 days prior to day of use. The selection window may vary for other admission tickets or passholders.
Make no mistake, my dining reservations for my next trip in April are already made but the thought of scheduling when I will ride Thunder Mountain doesn't sit well with me.   Personally, if my trip is planned to that level of detail, some of the magic is gone.  Then again, I could see this being perfect for a family with younger people that only get to the park once every five years who want to make sure they see their key attractions.
Half of my Disney experience is the anticipation of going and the idea of planning like this certainly can add to the excitement.  But does this mean that FASTPASSES will be all gone when we get closer to our trip?  Will there be some reserved for the day of?
 What Does this Look Like?
For starters, each attraction will need an RFID reader to read your chip and I must admit, this thing lights up so pretty, its magical.
You will go online or use a kiosk to make your selections as seen here:
Then you will get a confirmation via email and will also be able to refer to it in your "My Plans" section of the MyDisneyExperience app.
Of course, the FastPass+ is only one component of the NextGen project and use of RFID.  The NextGen project will also support park entry, resort purchases, and room keys.  Will this all happen on a park ticket?  That's no fun!  Instead, we will use Magic Bands!
Magic Bands

These are wristbands that will hold all the information needed to do park entry, resort purchases, FastPass+ etc.
The device is battery powered by a non-replaceable coin cell.  The device also contains passive UHF and HF RFID tags in a wrist worn arm band that transmits a 2.4 GHz signal to an indoor wireless infrastructure.
Just think of all of the colors, personalization, characters etc. that Disney will be able to put on these.   They will be keepsakes!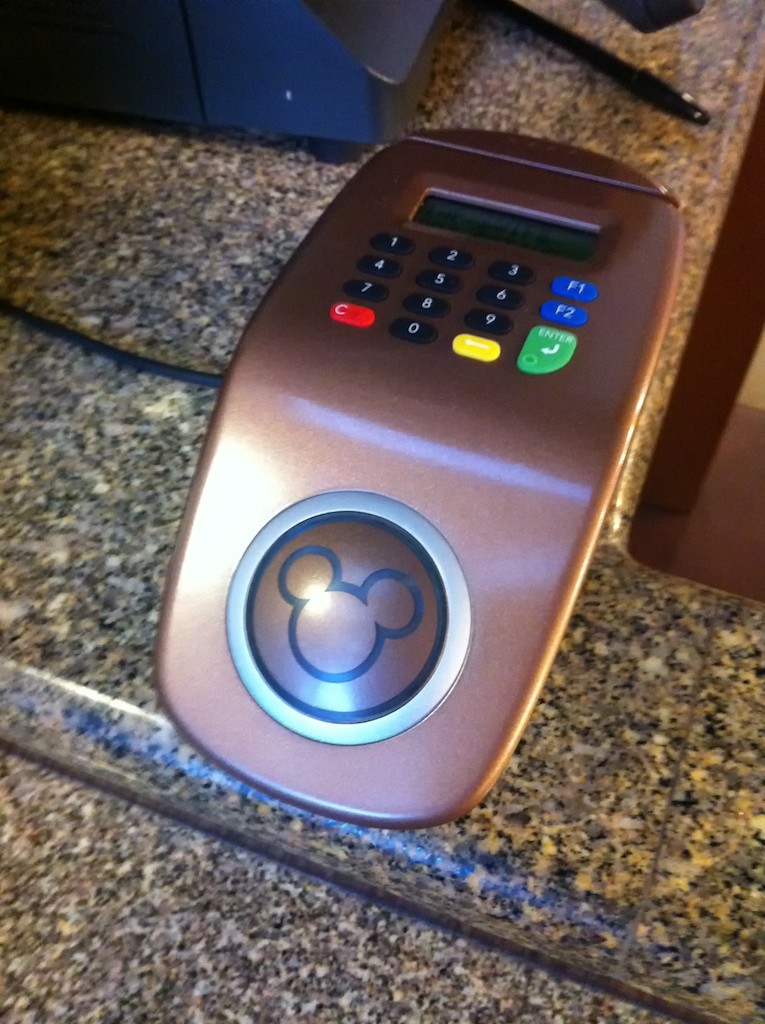 Of course this means new readers will be required at cash registers and that old turnstiles will need to be replaced (as much fun as having that turnstile smack you in the bottom is!).
As it stands, all four parks have these new RFID entrances set up for use in testing this new system and many resorts are adding in the new payment terminals.
Ultimately, I'm very much looking forward to how this will impact my eating.   Quick Service restaurants are already using RFID technology.  Will reservations at restaurants all be tied to RFID accounts?  In other words, how difficult will it be for someone without a theme park ticket to book a meal?