The Disney Legends are what makes Disney great.
The Disney Legends are what makes Disney great.
Certainly its the greats of our time that have provided the entertainment and the "vintage" Disney that we love. Some of their voices are as familiar to us as our own grandparents and family. Almost a year ago, Ilene Woods, the voice of Cinderella passed away at the age of 81. Even if you never knew who she was, you knew that when she was in love her heart had wings and she could fly.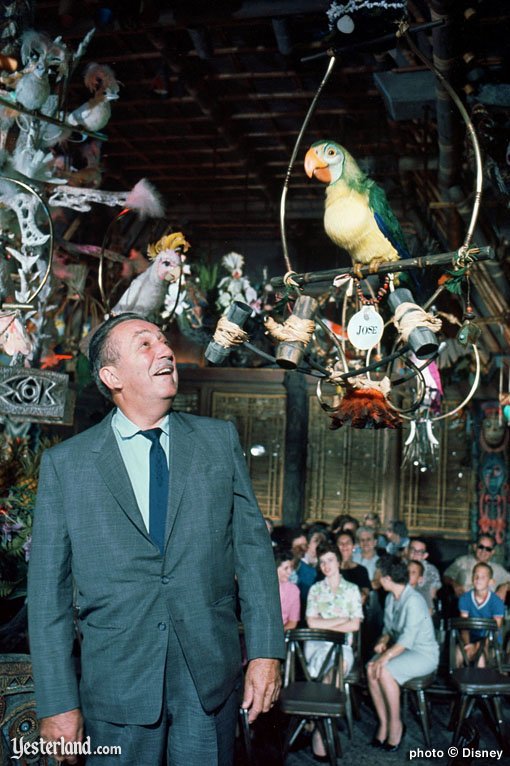 Most recently Disney lost two Disney legends within a few days of each other, Wally Boag and Betty Taylor. Wally holds a special place in many of our hearts as the voice of Jose, the master of ceremonies, from the Enchanted Tiki Room.  Wally also played Pecos Bill at Disneyland's Golden Horseshoe Revue, along with Betty Taylor who played his girlfriend Slue Foot Sue. The two shared the stage together for 30 years.
Now I'm the first to admit that I don't go for the Frontierland schtick very much and up till now the Pecos Bill Tall Tale Inn and Cafe in Disney World is just a convenient place to use the restroom in that part of the park.  But when reflecting on what Wally Boag and Betty Taylor brought to this musical review and what Walt envisioned himself for these themeparks, I now have a new found appreciation for the entertainment of the time and how it helped shape the parks we know and love today.
Walt's had this to say about Frontierland:
"All of us have a cause to be proud of our country's history, shaped by the pioneering spirit of our forefathers. . .Our adventures are designed to give you the feeling of having lived, even for a short while, during our country's pioneer days."
It was about adventure, it was about pride and Walt Disney also made it fun.  There's a sense of adventure and taste of authentic history at every turn.  It also has the smell of smoked turkey legs. I can tell you that if someone like Betty Taylor were performing there today I would actually wait in line to see that show!  Here is a clip of Betty Taylor and Wally Boag performing their famous gig at the Golden Horseshoe.
In case there was any doubt how entertaining this show was, it made it to the Muppet Show and you can't beat that compliment.
So to all the Disney Legends out there, past and present, Ole! Ole! Applause!, and thank you.